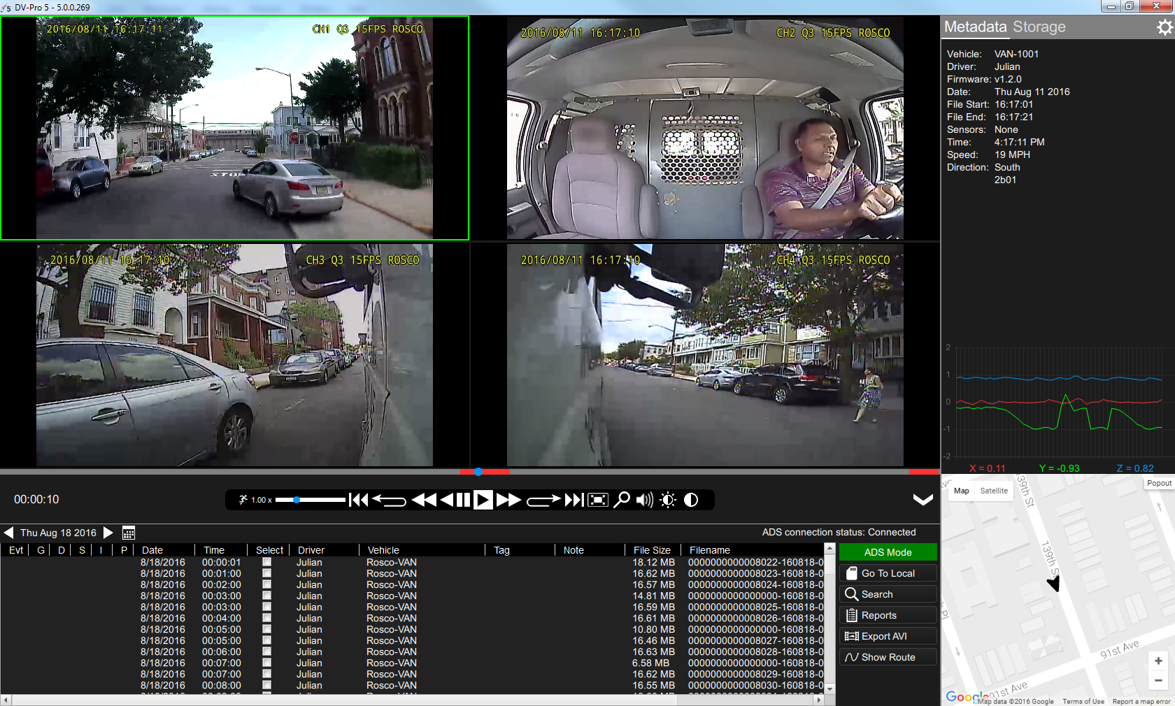 Description
Rosco's Dual-Vision XC4 is an advanced mobile video camera that helps reduce risk, improve safety and lower the costs of transportation and management of commercial fleets. Designed and manufactured specifically for the professional commercial fleet, Rosco cameras are tamper-resistant, continuously records as long as the vehicle is in operation, and has its own internal high-capacity memory, enabling the storage and retrieval of non-Exception videos for further analysis when required. The DVXC4 is a windshield based dual camera system with continuous HD video and Event/Exception recording, with the option of adding two or more auxiliary cameras.
The DVXC4 connects via cellular service with ROSCOLive, a cloud storage feature that works with Geotab to provide videos of exceptions captured by the GO device. Since ROSCOLive is fully integrated with Geotab, you can view and download the automatically sent snapshots and video clips of critical incidents and important exceptions directly to the ROSCOLive Add-In within MyGeotab without the need to open a separate website or program. Exception video clips are retained by the Add-In and are available for viewing and download any time.
The ROSCOLive Add-In can be accessed through MyGeotab, a great opportunity for video support of the powerful Geotab driver performance and incident recording features.
---
Features And Benefits
Continuous Video Recording and Event Recording
HD Quality Video Recording
720p Forward View Camera, 960H Interior Camera
Optional 960H Auxiliary Cameras For a Total of Four Cam Inputs
One-Piece Locking Mounting Bracket Protects SD Card
1,000+ hours of Recording Time per High-Capacity SD Card
Built-in Infrared LEDs for Excellent Night Interior View
Immediate notification of exceptions (accidents and or critical incidents) through text or email
Click a button to start reviewing snapshots and of video clips using an embedded HTML5 Player
Secure and safe Cloud Storage
---
---
---
---