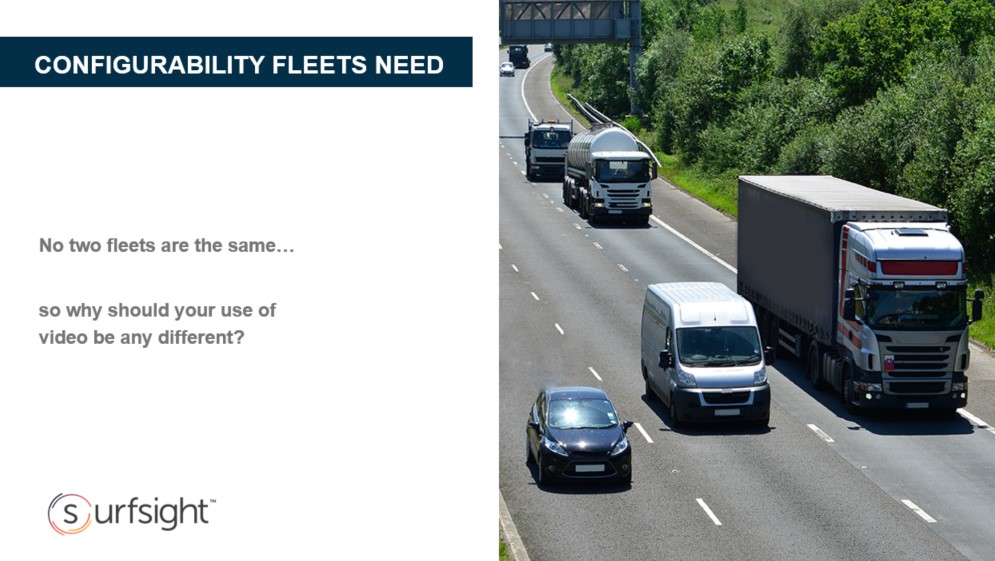 Description
The camera that captures the drive and driver behavior in real-time.
Powered by AI and Machine Vision, Surfsight automatically detects and alerts distracted driver behavior and harsh driving incidents in real-time, addressing the leading causes of preventable accidents.
Equipped with high definition road-facing and cabin-facing cameras, Surfsight captures the drive, simultaneously providing fleets with on-demand video view and video evidence retrievals on the Geotab dashboard.
Note:
Surfsight is available on the Geotab Order Now program in North America. A tamper proof case is included with every hardware purchase through the program. Please contact your Geotab Reseller to learn more. (If you are outside of North America, please work with your local Reseller who will contact Surfsight on your behalf).
Terms of Service: https://surfsight.com/eula/
---
Features And Benefits
Features:
High definition road-facing and cabin-facing cameras
IR for clear night vision in cabin
Built-in sensors and cameras powered by AI and Machine Vision
Built-in speaker and display for audio and visual coaching
On-demand video retrievals and live view from Geotab cloud
Turn any Geotab rule into a video event
Streamline video simultaneously from the road and driver
View up to 60 minutes of live video per month per device through the Order Now program
Benefits:
Improve safety with real-time alerts from harsh driving incidents
Reduce accidents with AI detecting distracted drivers
Reduce claims & insurance cost with live video evidence stored in the cloud
Improve operation visibility with on-demand video footage retrieval
Engaging employees in improving safety with data on driving behavior
Provide instant assistance and assess damages from the field in real-time with live video
Personalized drivers training based on the driver's driving style with data on each driver
Integrated seamlessly with the Geotab cloud platform, displaying vehicle video at your fingertips
10-minute vehicle installation
---
---
---
---