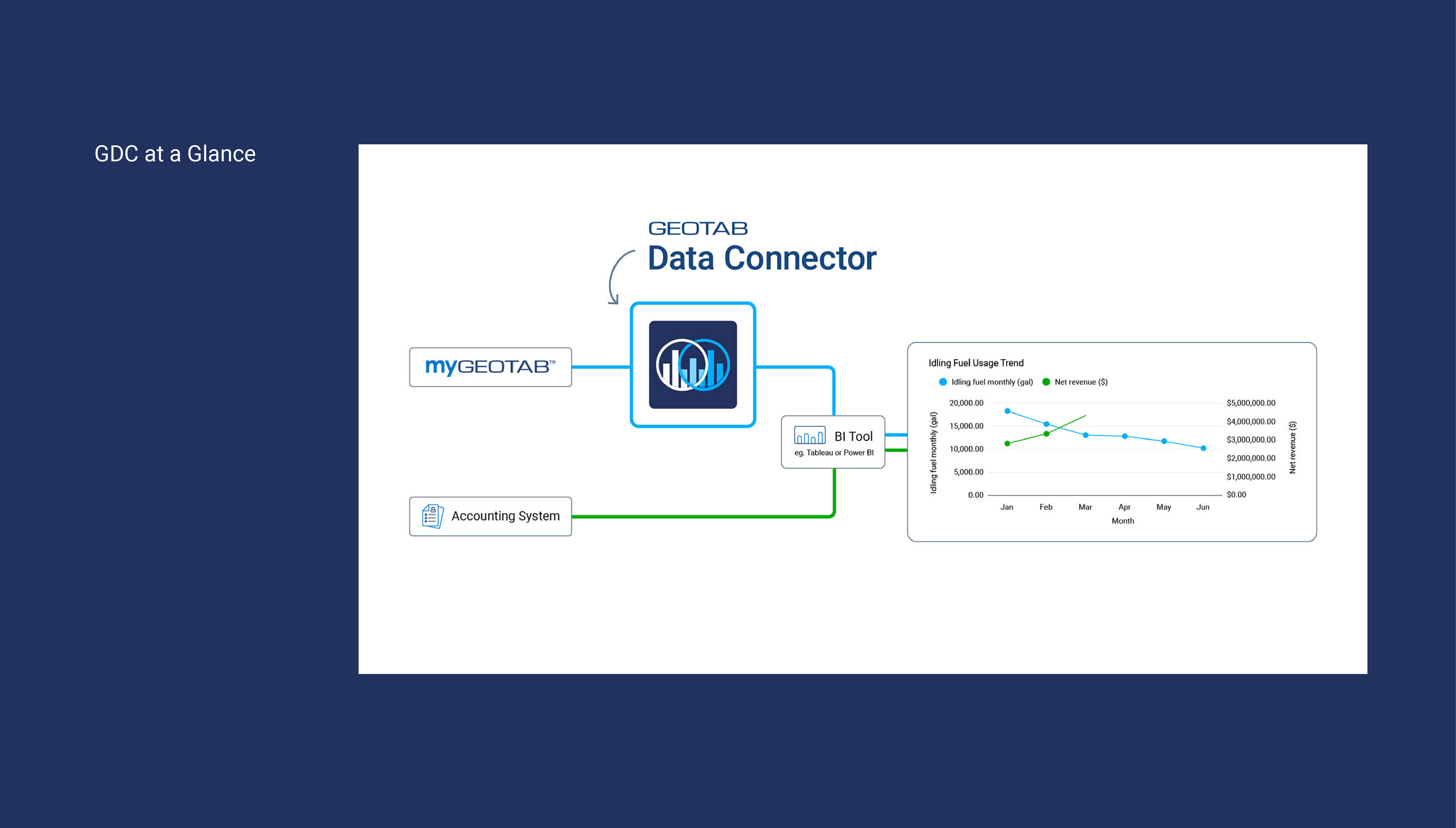 Description
Data Connector makes it easy to get meaningful, aggregated data into common Business Intelligence tools like Power BI and Tableau.
Geotab leverages our expertise prepping data for reporting and visualization, and makes these curated data tables available through PowerBI, Tableau (or Excel) via an easy to use connection and your existing MyGeotab credentials.
Information at your fingertips without coding expertise
Ready to use PowerBI and Tableau Dashboard reports*
Automated daily reports vs manual reports
Built in security/groupings based on MyGeotab Credentials
After subscription you will receive a welcome onboarding email with next steps including the User Guide and installation instructions.. Data Connector will also be available through MyGeotab as an add-in.
The Data Connector is only available on MyGeotab versions 8 and above.
Note: * GDC curated data is based on your existing fleet's data plan so some fields/charts shown in the ready to use dashboard templates may not be available or only show a partial aggregation of the data based on a mix of data plans among your fleet.
---
Features And Benefits
Connect pre-curated data from numerous Geotab data sources into your preferred BI/visualization tool
Combine MyGeotab fleet data with other data sources to provide even more valuable insights and informed decisions
Leverages Geotab's expertise working with extremely large data sets. No special skills needed to access raw MyGeotab Data and handle complex data pipelines to extract, transform, and load data into a customer data lake.
Ready to use PowerBI and Tableau Dashboard reports that also can be customized to meet your specific business needs
Direct access to data on Geotab Data Platform, providing robust performance for analytics workloads (i.e. aggregation occurs at Geotab and off your product servers)
Key data metrics are pre-aggregated for easy analysis, aggregated to local time zones
The dashboards provide trend information and comparisons on a Monthly, daily and hourly basis in separate tabs - dashboard dynamically updated
---
---
---
---