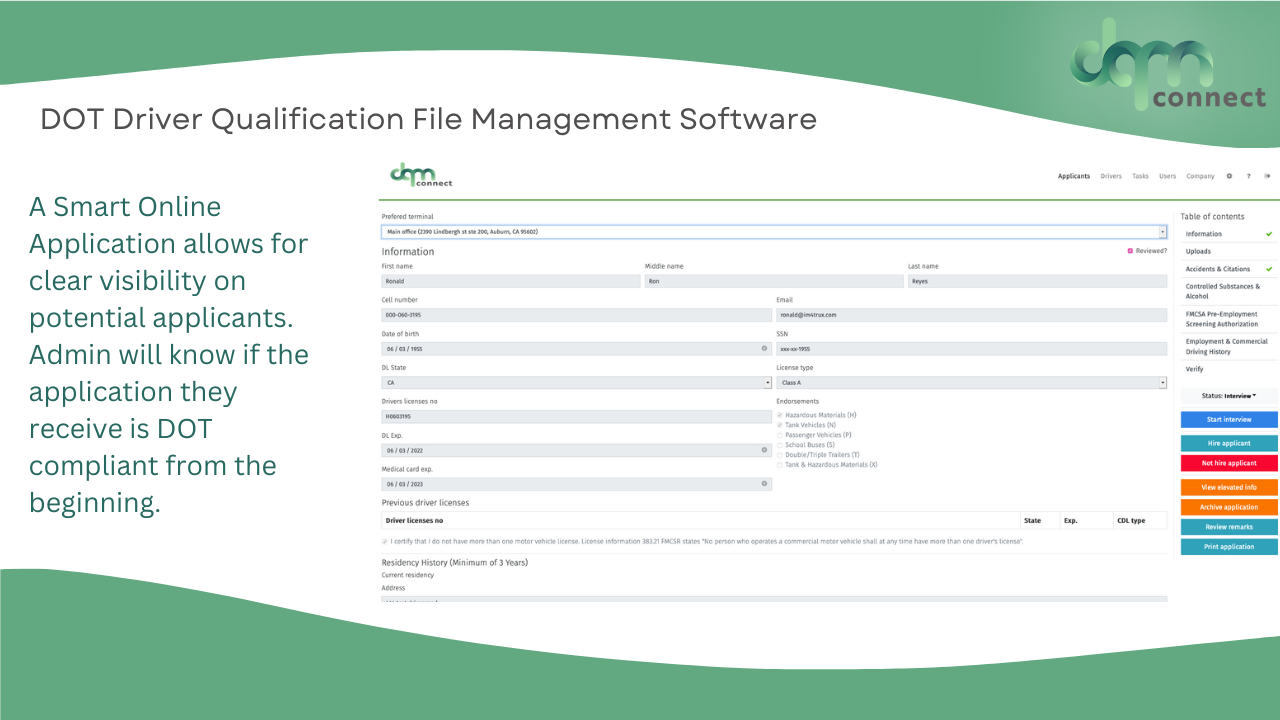 Description
DQMConnect is a driver qualification file and application management software. DQMConnect was designed to give the power back to trucking companies to manage the driver life cycle with confidence. for fleet sizes as small as 5 to larger than 5,000, DQMConnect solves the following pain points:
Conquering Driver Shortages
An online Smart Application allows companies to advertise openings through multiple job boards, enabling companies to source drivers from further distances. All the paperwork can be handled online through a Driver's portal compared to email, mail, or coordinating meeting times.
Companies maintain their own driver/applicant database in real time, allowing recruiters to reach out to potential new hires and influence their hiring decision.
A mobile and driver friendly application leads more applicants to apply. It features a self-guided flow, highlights missing fields, prefills information, and ensures DOT Compliance.
Application and driver files are stored and can be used for company rehires (i.e. seasonal hiring).
Driver just needs to complete gap data.
Hiring and Onboarding New Drivers with Ease
DQMConnect provides a guided compliant hiring/onboarding process that keeps all team members (new or current) following the same procedures. Multiple admins have visibility on the hiring process, if multiple departments are involved allows communication in one spot. Resulting in an expedited boarding process that reduces the timeline from weeks to hours.
Admins can push DOT and Custom Company documents to drivers for hiring requirements.
Eliminates email, mail or coordinating meeting times.
The smart application ensures that the DOT application is done right the first time, eliminating an admin having to go back and forth with a driver.
Never Miss a Driver Renewal Again (Driver's License, Med Cert).
Automated notifications directly to the driver. This system allows less burden on the admins and goes straight to the driver (who is the one who can complete the renewal).
Mobile friendly driver portal access makes it easy for drivers to upload proof of renewal.
An admin can easily update the driver's profile directly from the renewal screen after review. Eliminating spreadsheets, calendar or file the new document away.
Easily Assess DQ Files
DQM highlights missing DOT and HR documents both on the dashboard and driver profile to ensure compliance.
Take Audit Prep from Days to Minutes
Present your Driver files with just a click of a button
DQM will hide the unnecessary documents from an Auditor, relieving a company from needing to manually comb through their driver files.
An admin will not need to refile any documents once an audit is complete, DQM will do this automatically.
Overall Management of Drivers in Multiple Systems (Geotab, payroll, ELD, dispatch, etc.)
DQMConnect is your hub for all your drivers.
With an open API, integration opportunities with other software and compliance services are endless
Managing your master list from one reduces the number of times admins are required to input drive data
---
Features And Benefits
Smart on-line DOT application guarantees compliant applications the 1st time
Application management from an admins dashboard improves hiring rates
Guided on-boarding process simplifies the on-boarding process
Automated renewal management delegates renewals to the drivers
DQ, HR, Safety file management insures complete DOT driver files
Driver communication portal expedites document retrieval
DOT auditor portal allows for DOT audit preparation in seconds
---
Instructions
Resource page available for set up and Geotab integration : https://im4trux.com/dqmconnect-resources/
---
---
---