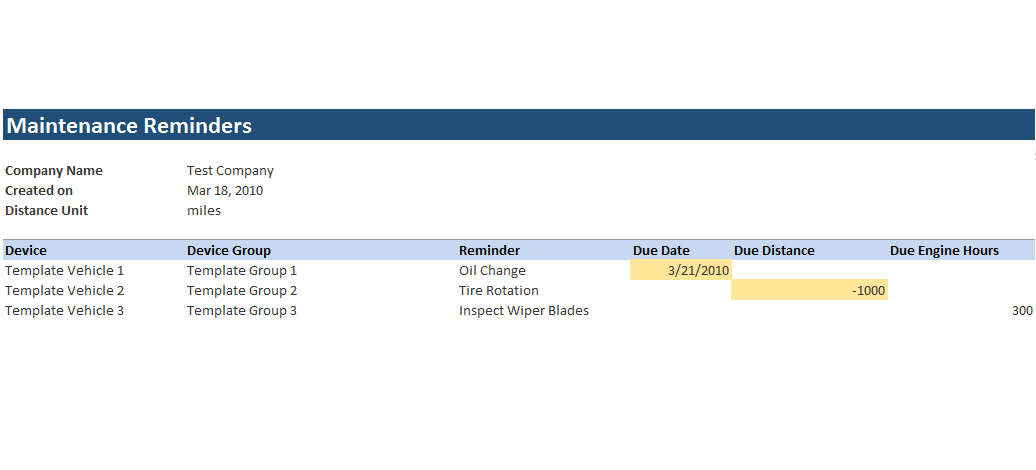 Description
This report allows fleet managers to stay informed and on top of vehicle maintenance. The ability to quickly identify which vehicles in the fleet are approaching their service date is invaluable in fleet planning and asset utilization scheduling.
Note: This report will only distribute via email if the due date, due distance or due hours of a reminder rule are within the values you specify in the user input fields on the Summary sheet. You can enter these criteria in cells B5 - B7 of the Summary sheet. A minimum of one of these cells is required to be populated in order for the dynamic email sending feature to work.
---
Features And Benefits
Logic included for dynamic email sending
Customizable maintenance due parameters
Applicable to all reminder types
---
Instructions
To learn how to import a report into MyGeotab, view our Reporting Basics training found here.
After completing the file import, follow these steps to configure this report as an Emailed Report:
Select the group of users who should be able to view/receive this report. e.g. If this report is only meant for the Maintenance department, create a group a group called Maintenance Reports and assign the maintenance users to that group.
Set the Report Date Range to your desired time range, recommended setting is for Today.
Similarly, specify a Refresh period which will result in new data being generated for each cycle start, beginning on the date and time specified in the Next run field.
Select the group of vehicles you would like included in the report. By default, it is set to Everything as the user will only receive what they have access to.
Under Additional Report Options, specify criteria for which Reminder Rules you would like to report on and which due limit criteria (period, mileage, engine hours) you are interested in for inclusion within the report data.
---
---
---