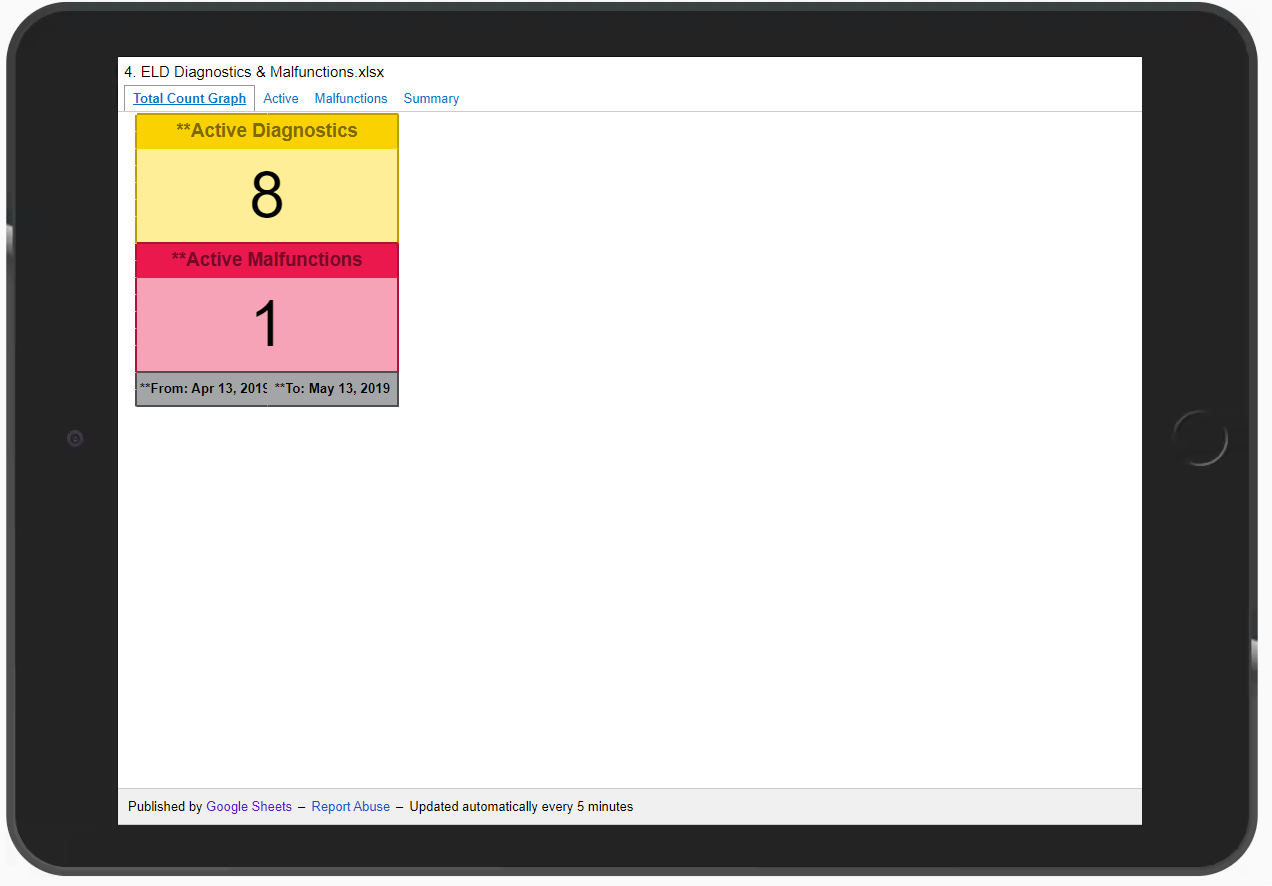 Description
The ELD Diagnostic & Malfunctions Report is designed to capture data diagnostic & malfunctions events by vehicle. This ELD report can be set up as an emailed or dashboard report within MyGeotab. The Summary tab provides a detailed view of data diagnostic & malfunctions events by vehicle and event counts. The Count tab provides a quick overview of the each data diagnostic & malfunctions events by type. Similarly, the Graph tab provides a total count of all events.
Note: ELD diagnostic & malfunctions events follow the vehicle, not a user.
We recommend the following when running this report:
Recommended format: Email or Dashboard
Recommended period: Date Range of Previous 30 days and a Weekly Refresh Period
Check out these resources to help you create custom excel reports: a blog post on How to Design a Custom Dashboard Report and a video on Custom Reporting Basics
---
Features And Benefits
Ability to view potential ELD Data Diagnostic/Malfunction Events across a fleet
Improve visibility into asset health
Improve your fleet's operating efficiency
---
Instructions
Upload Custom Report
In the database, select Administration > Reports > Dashboard or E-mailed Reports
Upload the custom report by selecting the Add Excel file button at the top.
Settings for Custom Emailed Report
To configure this report as an emailed report, you will need to apply additional settings:
Specify the groups for the dashboard viewers or the recipient list
Set the Report Date Range to your desired time range (Previous 7 Days is recommended)
Similarly, specify a refresh period which will result in new data each cycle start (Daily is recommended).
Select the group you would like included in the report. By default, it is set to Everything as the user will only receive what they have access to.
Select Run report by to Unidentified and Statuses: (Malfunction or diagnostic occurrence)
Upon completion, select Save at the top.
---
---
---
---