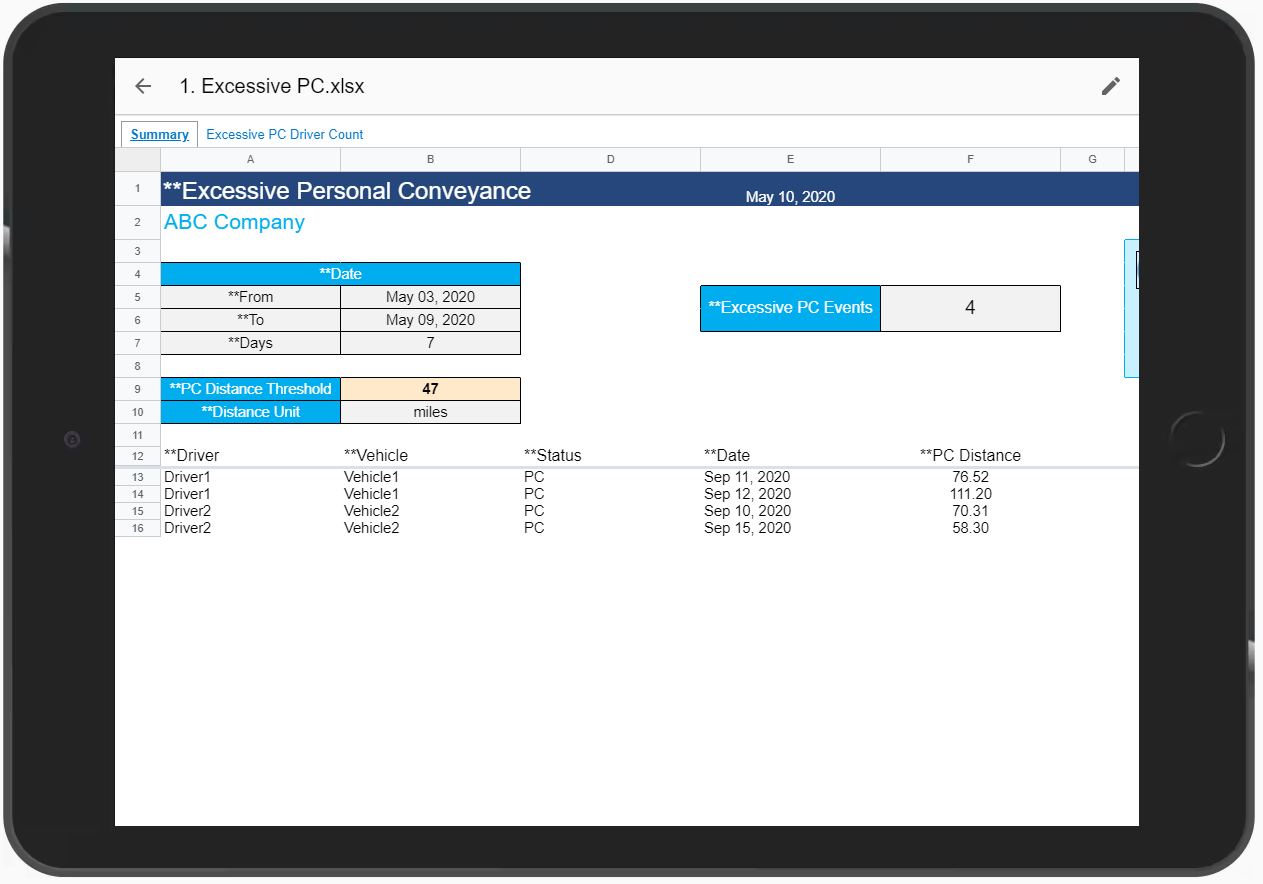 Description
Regulations may or may not require a carrier to monitor Excessive Personal Conveyance, however most carriers and regulatory auditors are interested in a justification for distances driven in Personal Conveyance.
This report allows a carrier to monitor Personal Conveyance over a pre-selected limit on distance driven in PC. By default, this limit is set to 47 miles or 75 km per Driver.
To change the default values, users can edit highlighted cells in the Summary sheet in the report template. We also recommend the following when running this report:
Recommended format: Email or Dashboard
Recommended time period: Date Range of Previous 7 days, and a Weekly Refresh Period
Additionally, this report can be modified to show HOS logs:
by duration of operation in PC
by groups inside company
compared by HOS rule set of the driver
by Verified and Unverified PC logs
filtered by use of Trailer
by Annotations
by starting location of the PC log
by Top violators of Excessive PC use
Check out these resources to help you create custom excel reports: a blog post on How to Design a Custom Dashboard Report and a video on Custom Reporting Basics
---
Features And Benefits
Increased visibility into driver training needs

Ability to monitor driver behavior

Ensure HOS compliant ahead of audits

Catch violations before DOT roadside audits

Improve your fleet's operating efficiency
---
Instructions
To learn how to import a report into MyGeotab, view our Reporting Basics training found here.
After downloading this custom report, follow these steps:
Modifying Custom Report
By default the personal conveyance distance for this report is set to 47 miles or 75 km per Driver. To modify this number, adjust the distance in the Report tab and save the report before uploading.
Upload Custom Report
In the database, select Administration > Reports > Dashboard or E-mailed Reports
Upload the custom report by selecting the Add Excel file button at the top.
Settings for Custom Report
To configure this report as a Dashboard or Emailed report, you will need to apply additional settings.
Specify the groups for the dashboard viewers or the recipient list
Set the Report Date Range to your desired time range (Previous 7 Days is recommended)
Similarly, specify a refresh period which will result in new data each cycle start (Weekly is recommended).
Select the group you would like included in the report. By default, it is set to Everything as the user will only receive what they have access to.
Upon completion, select Save at the top.
---
---
---
---