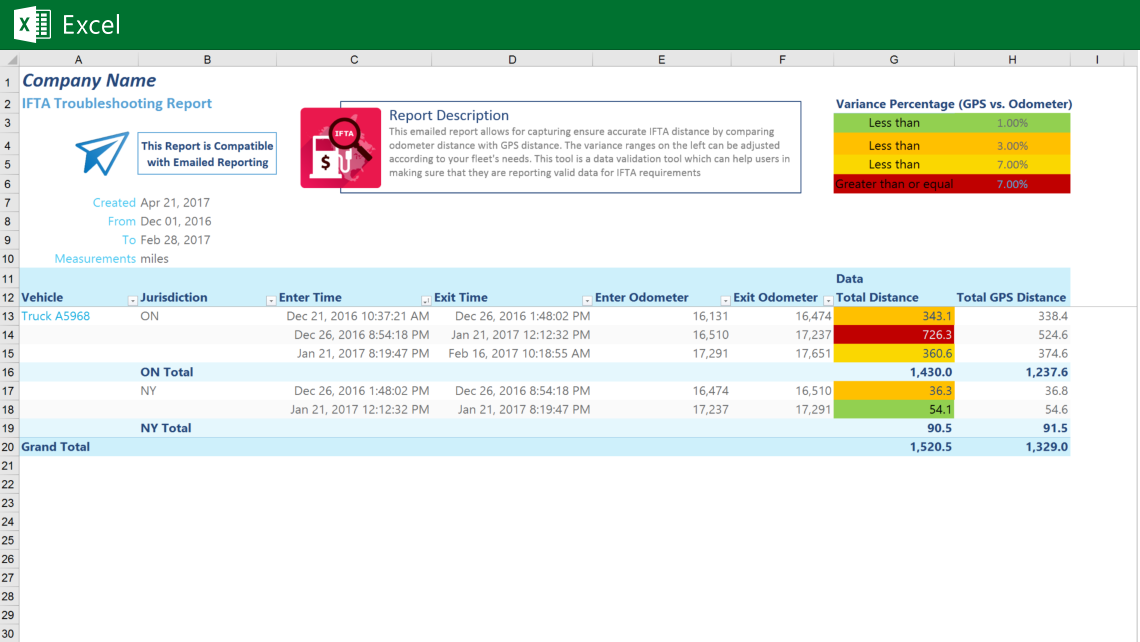 Description
This report assists in troubleshooting efforts related to IFTA reporting and the differences which can be observed between a given vehicle's total GPS distance traveled and total distance traveled via the difference in odometer readings. Essentially, it is a data validation tool which can help users in making sure that they are reporting valid data for IFTA requirements.
---
Features And Benefits
Built in logic for variance calculation
Customizable variance percentage classifications
Ensures high quality compliance data
---
Instructions
To learn how to import a report into MyGeotab, view our Reporting Basics training found here.
After completing the file import, click Yes for the option called Show report in dropdown list which is located on the Report View tab of the report configuration page. In order to configure this report as a Dashboard or Emailed Report:
Specify a Refresh Period which will result in new data being generated at the beginning of each cycle based on the Next Run time setting. For this type of diagnostic report, a weekly Refresh Period is recommended.
Select the group of vehicles you would like included in the report. By default, it is set to Everything as the user will only receive what they have access to.
Select the group of users who should be able to view/receive this report. e.g. If this report is only meant for the Maintenance department, create a group a group called Maintenance Reports and assign the maintenance users to that group.
---
---
---
Device Requirements
Available for all GO devices
Device Plan Requirements
ProPlus, Regulatory, Pro