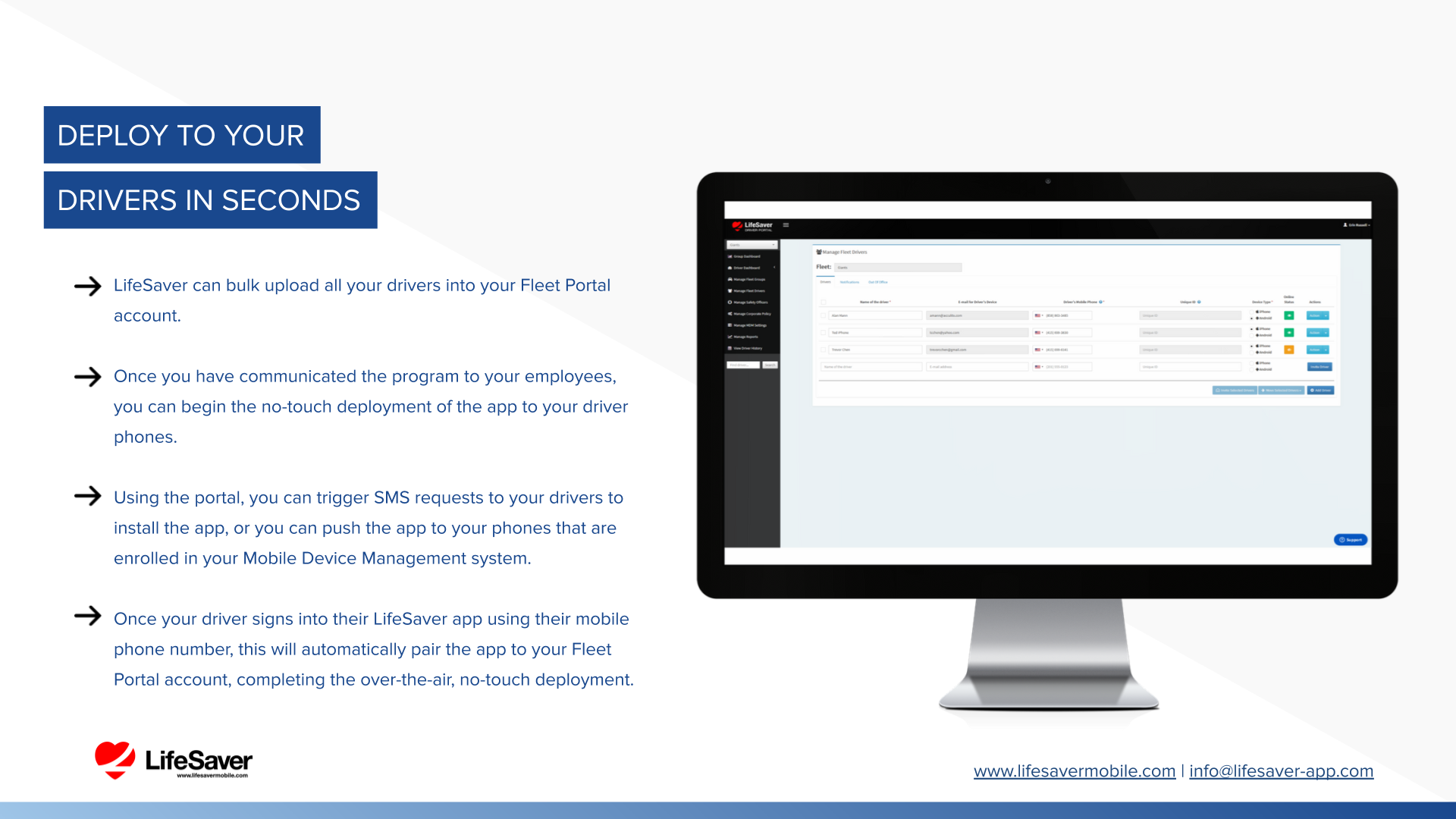 Description
LifeSaver Mobile is an in-cab driver safety solution that prevents the occurrence of driver phone distraction and reduces the occurrence of speeding, 2 of the biggest risk factors for auto collisions.
With no beacons or tags to purchase or install in the vehicle, our 100% software solution simplifies your company's federal and state compliance with hands-free mobile laws and speed limits, lowering the risk of fines for your company and decreasing your at-fault collisions by up to 80% annually, which will minimize company liability and mitigate the rising cost of fleet insurance.

Our innovative Verbal Speeding Alerts enable employers to provide drivers with real-time, configurable voice-based messages when the employee has exceeded a posted or maximum speed limit established through the LifeSaver administrative portal.

Our unique integrations with Geotab simplify the experience for our joint customers in the following ways:
By adding the LifeSaver Mobile Add-In to their MyGeotab Dashboard, Geotab customers can enjoy single sign-on (SSO) access to their LifeSaver administrative portal.

Geotab Drive customers can tailor LifeSaver's driver safety restrictions to the specific hours that each driver is on duty and driving for the company as indicated by each employee through their Geotab Drive status.
---
Features And Benefits
Features
100% software solution; no beacons or dongles to install in every vehicle
Over-the-air deployment; full deployment typically happens in less than 2 weeks
Proactive safety approach; it stops the problem before it starts, so there's less coaching required
Lower cost of ownership; no expensive hardware to purchase
Works with any Mobile Device Management provider
Benefits
25-50% reduction in crashes year over year
Calculate your potential savings here: www.lifesaver-app.com/savings
Preserves your company's brand and reputation
Improves your company's risk profile for fleet insurance renewals
---
---
---
---