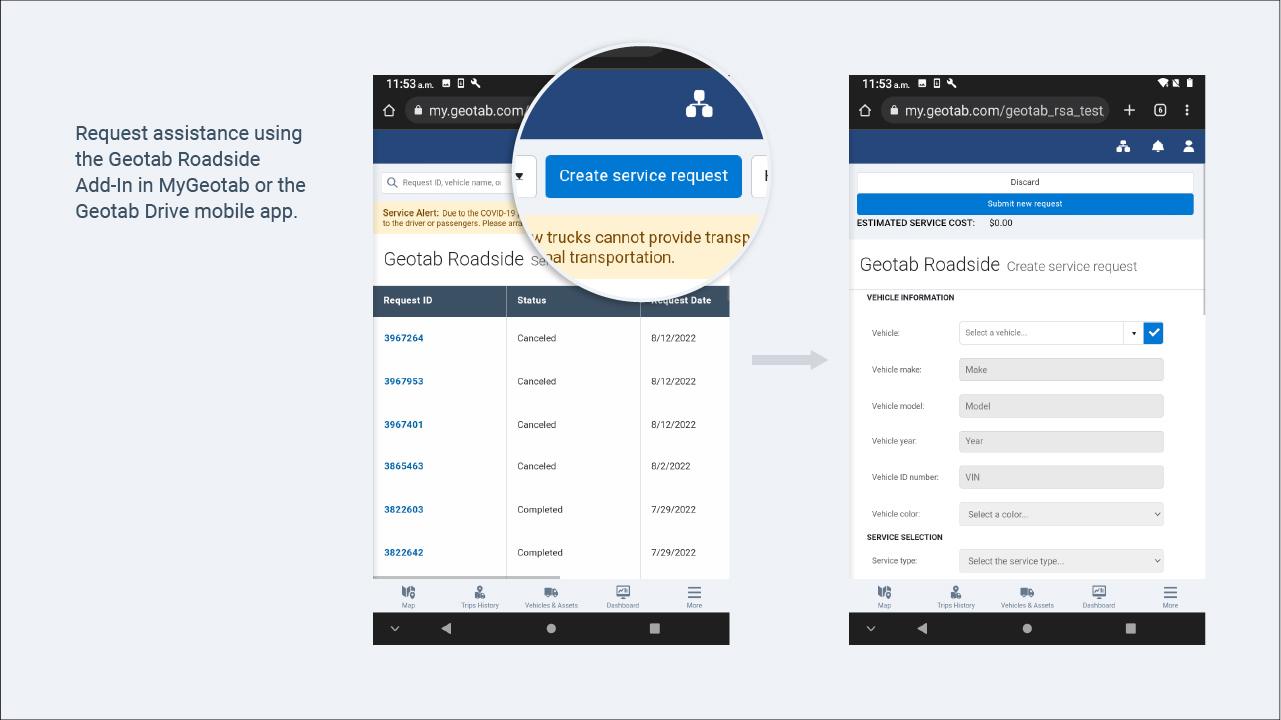 Description
Available in the United States and Canada, the Geotab Roadside Add-In leverages the roadside assistance network of Agero to provide light, medium and heavy-duty fleets roadside assistance and near real-time visibility on the status of any roadside request.
Available on all ProPlus rate plan variations (i.e. ProPlus, ProPlus Public Works, ProPlus + Wi-Fi, or ProPlus + Keyless), this Add-In allows Customers to specify the phone number of the vehicle driver on-site to provide near real-time service status updates to drivers via SMS. Customers can answer service-related questions within the Add-In to help dispatch the correct service provider with the required equipment to help increase vehicle uptime and improve fleet productivity.
NOTE: Towing services for light-duty vehicles greater than 25 miles (for service requests originating in the United States) or 40 km (for service requests originating in Canada) and all services for medium-duty and heavy-duty vehicles are available at a fee; these are not covered by the Geotab ProPlus rate plan benefits.
---
Features And Benefits
A streamlined Add-In user-experience using the Geotab Drive app and MyGeotab platform
Complimentary roadside assistance for light-duty vehicles with fleet-wide ProPlus subscription
Near real-time service status updates to drivers via SMS
Help increase vehicle uptime and fleet productivity.
---
---
---
---