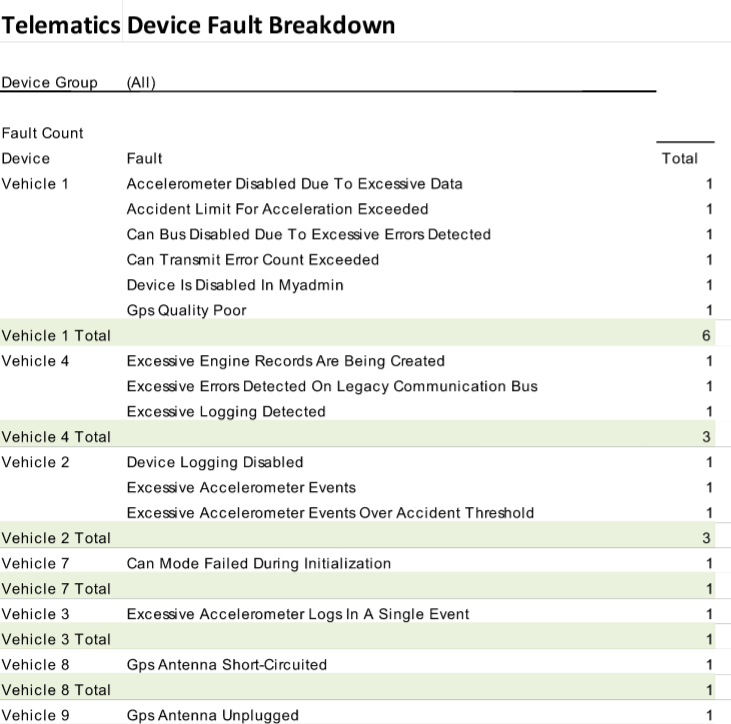 Description
This report provides insight into what types of device related issues are present in your vehicle fleet. It includes a breakdown of exactly which devices are experiencing performance issues, what those issues are, and how they can be addressed in order to restore normal device functionality. An extremely useful tool which can be used to ensure a strong telematics device uptime in your fleet.
---
Features And Benefits
Extremely powerful and easy to use
Great candidate for dashboard reporting
Customizable fault list for reporting on
---
Instructions
To learn how to import a report into MyGeotab, view our Reporting Basics training found here.
After completing the file import, follow these steps:
In the Report view tab, under Additional Report Options, click to Display all diagnostics. Then, copy out the content of cell A1 from the "Diagnostics String" sheet in the report and paste it into the search field in MyGeotab.
To configure this report as a Dashboard or Emailed Report, you will need to apply additional settings.
Set the Report Date Range to your desired time range for assessing device faults.
Similarly, specify a refresh period which will result in new data each cycle start.
Select the group of vehicles you would like included in the report. By default, it is set to Everything as the user will only receive what they have access to.
Select the group of users who should be able to view/receive this report. e.g. If this report is only meant for the Maintenance department, create a group a group called Maintenance Reports and assign the maintenance users to that group.
Under Additional Report Options, you may choose to select a time period to group the overall data by.
---
---
---