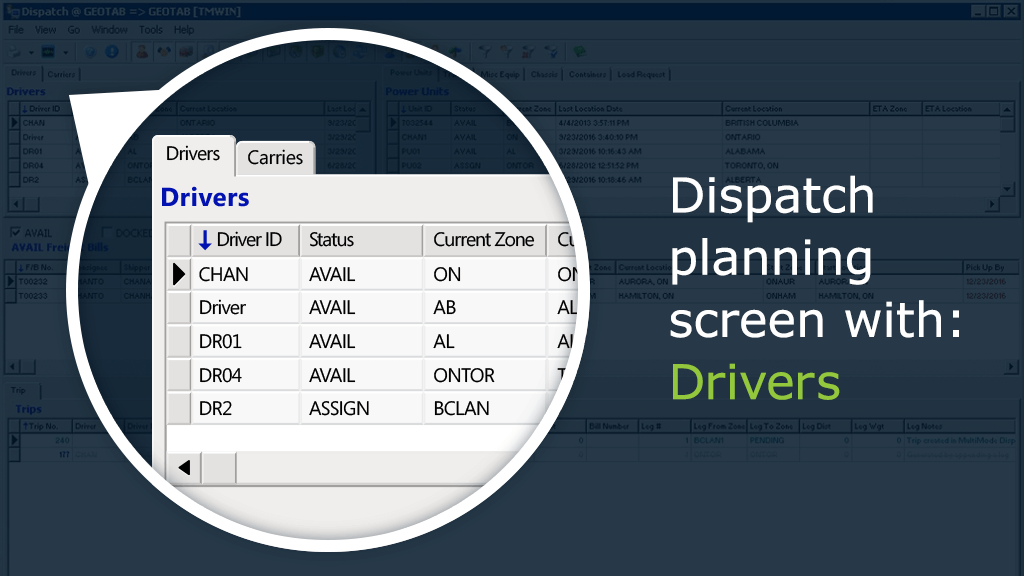 Description
TMW Systems' TruckMate and TMWSuite are robust Transportation Management Systems designed for the success of today's transportation companies. The integration of these solutions will connect people and processes with industry-specific workflow and automation, helping you to reduce empty miles and improve operating ratios and utilization.
These solutions will serve as the information hub of your organization, providing real-time visibility into order-entry, load-booking, dispatch and driver settlement, and detention and service failures, better enabling you to manage by exception.
Quickly identify any downward trends so you can get ahead of the problem and immediately work towards a solution, rather than receiving the bad news in a monthly report when it is already too late.
We treat fleet maintenance operations as a key cost driver in your business, so our maintenance management software can speak to your financial systems or be integrated with our carrier operations systems for a true 360-degree view of company performance.
---
Features And Benefits
General features of both products include the following options:
Manage trucks, trailers and drivers in a single application

Enter, Dispatch, Track and Manage Orders through to Cash

Improve equipment utilization

Increase revenue per mile

Track driver and equipment qualifications and load requirements for more efficient dispatch

Get exception alerts, extensive reporting and key performance indicator (KPI) dashboards to support continuous improvement and higher profitability
As separate TMS tools, TruckMate and TMWSuite both offer integrations to Geotab with slight variations related to the integration functionality. Features of the products are as follows:
TruckMate to Geotab Integration Features:
Dispatch macro forms and work orders to drivers

Drivers are able to update status & work order fields with return forms

Receive real-time status updates
Send automated notifications when drivers arrive at shipper/consignee locations
Monitor HOS status and availability

Track "breadcrumb" and live position

Send Messages
TMWSuite to Geotab Integration Features:
Macro/Workflow based messaging
Two-way basic messaging
Vehicle locations update (GPS)
Hours of Service
---
Instructions
TMWSuite and TruckMate are separate TMS products available for sale from TMWSystems.
Both TMWSuite and TruckMate offer integrations to Geotab. Due to the nuances within both products and the integrations, customers and resellers should reach out to TMW Sales to determine the best TMS Solution for their needs.
TMWSuite and TruckMate integrations have unique requirements specific to the TMW Product and Geotab requirements.
For more information on TMW Systems as well as our TMWSuite and TruckMate products, please check out our video here
---
---
---
---