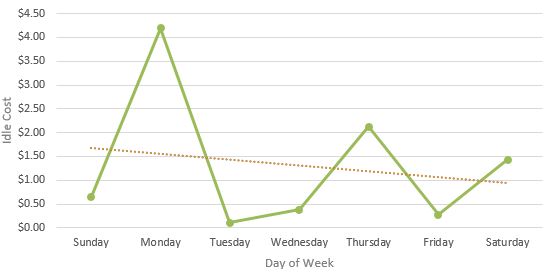 Description
This weekly report displays the entire fleet's idling costs for each day, making it easy for fleet managers to identify the total amount idling is costing their company.
The report calculates the cost based on the industry rule that states: on average, for every hour of idling, a vehicle will burn 1 gallon of fuel.
The data is displayed with a graph, which can be used to identify weekly trends. The trend line indicates whether or not your fleet is reducing their weekly idle total.
---
Features And Benefits
Trended data to see how your fleet is performing
Put an ROI to idle times to reduce costs and keep a healthier fleet
Set the current fuel price to get a true cost of idling
---
Instructions
To learn how to import a report into MyGeotab, view our Reporting Basics training found here.
Before importing the report, enter in the current gas price on the report tab in cell D2.
Upon importing, follow the steps below:
In the Report View tab, select Group By to Daily and Grouping Options to Individual Devices or Drivers.
To configure this report as a Dashboard or Emailed Report, you will need to apply additional settings.
Set the Report Date Range to Last Week
Select Group By to Daily to show the trending information properly
**Please keep in mind that this report has been developed for US fleets and gas prices per gallon. If you need a report in litres, please download the Weekly Idle Cost Daily Trend (Litres) report.
---
---
---
Device Requirements
Available for all GO devices
Device Plan Requirements
ProPlus, Base, Pro